Shiftup Business Agility & Innovation Leader Workshop with Jurgen Appelo
Monday 17 June 2019
This event has finished.
Started 9:00 AM
Finished 17:00 PM
---
Organized by ONYOU - Empowering & Learning Experiences
---
Venue: Centro de Inovação da Mouraria (CIM)
Address: 23 Rua dos Lagares
1100-022 Lisboa
About this event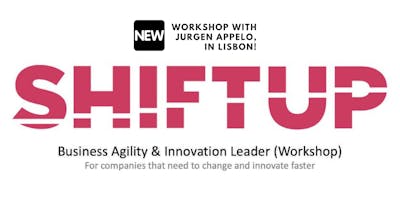 Coming up in Lisbon, Portugal, for the 1st time, in June 17th – 18th 2019, at Centro de Inovação da Mouraria (CIM), the first edition of the new workshop by Jurgen Appelo is co-organized with ONYOU - Empowering & Learning Experiences.
Most companies are expected to screw up and die within the next two decades. They will be replaced by a new generation of disruptive startups and scaleups except for the organizations that learn how to disrupt themselves.
Starting new teams and scaling up innovation is more critical than ever. The key to success is applying different practices in different stages of the innovation lifecycle. What works for a new business does not work for a mature one, and vice versa. In this workshop, you will nosedive into the major good practices for business leaders and product teams, from the moment they have an innovative idea to the day they will scale it up (or screw it up). Everything depends on the lifecycle stage of the product or service.
The Shiftup Innovation Leader (SIL) is a two-day workshop that teaches the principles and common practices of Lean-Agile business innovation. It is a combination of facilitator-led instruction, peer discussion, and team exercises. The workshop helps attendees understand how innovation works across the lifecycle of a business, and it makes them aware of their role in the creation and delivery of innovative products and services in continuously changing environments. #lean #agile #innovation #business #startups #scaleup 
What You Will Learn
In two days, you will see that the basic unit for innovation is the strategic business model. You will understand how each business model evolves from exploration and effectiveness to exploitation and efficiency. And you will learn how managers, leaders, designers, and developers need to organize their work differently to create an organization that can reinvent itself continuously and that can scale tremendously.
The Shiftup Innovation Leader workshop teaches participants to apply Lean-Agile thinking to all aspects of business innovation. That's why attendees automatically qualify to become an ICAgile Certified Professional.
Audience
Coaches, consultants, team managers, business leaders, product designers, product developers, product managers, project managers, human resource managers.
This is a foundational workshop, meaning that no knowledge or certifications of lean thinking, business agililty or innovation are required. This is not an expert-level course. However, having some experience with new product development and business management (in any role) will make attendance easier. 
Agenda of the First Day
The Business Lifecycle
Change, Agility, Innovation, Value & Complexity, The 10 Business Lifecycle stages, Problem/Solution Fit, Product/Market Fit, Business/Market Fit
The Business Quilt
The pieces of the Business Model Quilt, Business Model Canvas, Lean Canvas, Minimum Viable Products, Pivot, Patch & Persevere
The Innovation Vortex
The seven streams of the Innovation Vortex, Design Thinking, Lean Startup, Design Sprints, Lean Personas, Jobs To Be Done, Journey Maps
Agenda of the Second Day
Lean-Agile Principles
Agile Manifesto, Lean Thinking
Purpose & Objectives
Product Vision, Hoshin Kanri, North Star Metrics, Objectives & Key Results
Performance & Metrics
Velocity, Burn Rate, Queue Length, Flow Efficiency, Burn Charts, CFDs, Pirate Metrics
The Innovation Funnel
Innovation Board, Innovation Accounting, Metered Funding
Lean-Agile Mindset
Growth Mindset, Mental Models
Foundational Course
The aim of this workshop is not to simply review dozens of practices and buzzwords that will be well-known (to some participants). Instead, the goal is to take a higher perspective and achieve a foundational understanding of how all these tools fit into the larger picture of the innovative, evolving company as a family of business models with individual business life cycles. It is the perfect starting point for organizations aiming to achiev
---
This page last updated Wednesday 25 March 2020 at 16:12.
Problems? Report an error or inappropriate listing here.
Information displayed here is provided in good faith but we are not responsible for the content of any listing. Sometimes events can be cancelled or changed at short notice. Please check with the venue or organizer before you travel!