The Agile Fluency® Model: A Path for Investing in Agile Teams
Thursday 1 October 2020
Starts 9:00 AM
Finishes 18:00 PM
---
Organized by Radtac Portugal
---
Venue: Oriente Museum Lisbon
Address: Doca de Alcântara (norte)
Av. Brasília
1350-352 Lisboa
About this event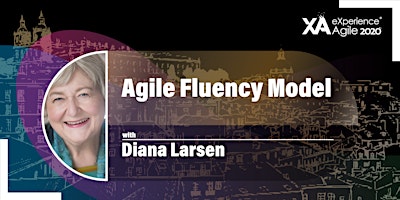 The Agile Fluency® Model
A Path for Investing in Agile Teams
Overview
Start here to learn how your organization can use the Agile Fluency Model to guide organizational investment in growing teams' skills and capabilities. Gain a deeper understanding of the Agile Fluency Model. Discover leverage points to power up your software teams.
In this two-day workshop, Diana Larsen, co-developer of the Model, will lead you on a journey to envisioning a world where Agile is done well in every organization, and where each team performs at a level of fluent proficiency that is fit to purpose. As a traveler on the journey, you'll select the fluency zones destinations that will best fit your organization, then create a plan for communicating expectations to your teams.
You'll also play the Agile Fluency Game which simulates two and a half years on a software development team that's adopting an agile approach for the first time. You'll learn the outcomes that result from investment decisions and learning efforts, leading to actionable insights that you can immediately apply in your organization. You'll create a personalized investment plan for enabling teams to produce the business benefits you need.
What you will learn
How to recognize typical patterns team follow as they gain proficiency and capability
How to focus investment in teams for the most business benefit
How to draw insights for your own teams and business from a software development simulation
How to create a customized investment plan for your organization
Course Outline
We are always revising and improving our materials, so this outline is subject to change: 
Understanding the Agile Fluency Model
Aligning delivery teams with your organization's goals and needs
How to help teams develop and flourish
The Agile Fluency Game: A teamwork simulation for software delivery
Take-aways you can apply to your real team environment
Improving teams and your organization with the Agile Fluency Improvement Cycle
How to plan organizational investments that support a team's increasing capability and performance
How to leaders and managers can work with coaches to achieve sustainable improvements
Audience
Technical leaders and team members who seek team greatness
Agile consultants and coaches who want to add to their toolkit
Middle managers who want to develop skilled agile teams
Senior leaders tasked with growing their delivery capacity and capability
Executives who know that greater business agility and marketplace resilience depends on software production
Meet the Trainer
Diana Larsen
A visionary pragmatist, Diana Larsen is Chief Connector at the Agile Fluency® Project, where we hold a vision of an inspiring future: "Every agile software teams practices Agile Software Development at a level of fluent proficiency that specifically fits their businesses' needs."
Devoted to the success of all Agile coaches and teams, Diana co-authored books *Agile Retrospectives: Making Good Teams Great*; *Liftoff: Start and Sustain Successful Agile Teams*; *Five Rules for Accelerated Learning*; and co-originated the Agile Fluency™ Model. Diana co-wrote the seminal "Agile Fluency Model: A Brief Guide to Success with Agile" article with James Shore, co-founder of the Agile Fluency Project. She collaborates closely with an extended network of consultants and other colleagues. Diana discovers solutions and possibilities where others find only barriers and obstacles.
As a founder of FutureWorks with many years experience working with technical professionals, Diana Larsen partnered with clients in the software industry to build her clients' proficiency in shaping environments for productive teams and thriving in times of change. She led the practice area for Agile software development, team leadership, and Agile transitions at FutureWorks Consulting, so that everyone at every level can say, "I love my work...this is the best job ever!"
For f
---
This page last updated Wednesday 25 March 2020 at 16:12.
Problems? Report an error or inappropriate listing here.
Information displayed here is provided in good faith but we are not responsible for the content of any listing. Sometimes events can be cancelled or changed at short notice. Please check with the venue or organizer before you travel!